About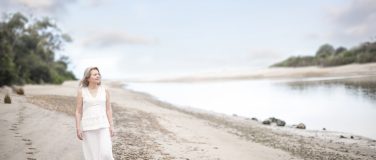 Sarah has international reputation for her expertise and courses on the Essenes, and their practises in peacefulness and angels.  The Essene Communion with the Angels and the Sevenfold Path to Peace.   She is an advocate of conscious living, mindfulness and holistic well being.  She is also a registered teacher with the Aura-Soma Academy, teaching the Aura-Soma courses to Advanced level, and also the angel courses, the 72 Angels of the Kabbalah with Aura-Soma to Advanced level.
"I know from personal experience just how much Sarah can help to transform your world"
Sarah is passionate about personal and spiritual growth, both as a therapist and teacher.  She is an ardent meditator and teaches about presence and mindfulness as part of her courses.  As a therapist she can guide you to let go of your self-limiting beliefs and blockages and enable you to grow and be the best, and the happiest, that you can be.
Graduating from the College of Craniosacral Therapy, in London in the early 90's, was a life changing moment. Sarah then went on to train in other healing modalities: reflexology, reiki, kinesiology (kinergetics), and Aura-Soma.  Sarah had previously built up a busy client practice in the UK, before emigrating to Australia in 2000, and now has is available to see clients at the Purple House in Forth, and Leven Traders Health, in Ulverstone, Tasmania.
Having originally been a medical scientist, Sarah understands both worlds of health care, using her breadth of knowledge and healing experience in her client consultation.
Therapies: Craniosacral Therapy, Kinesiology, Reflexology and Reiki.
Courses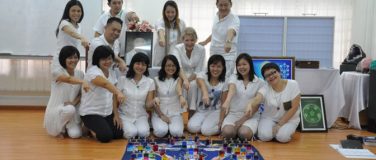 As an experienced teacher Sarah offers the following courses both within Australia and internationally:-
Aura-Soma Beyond Colour courses Levels 1, 2 and 3.
72 Angels of the Kabbalah with Aura-Soma Parts 1, 2 and 3.
All of the above are Aura-Soma Academy certified courses.
The Angels and Peace Meditations of the Essenes with Aura-Soma
Craniosacral Therapy Parts 1, 2 and 3.  These are 4 day courses during which Sarah shares her wealth of knowledge and depth of experience gleaned from over twenty five years working in this field.  Sarah's tactile sensitivity enables her to touch the depths of the person and the soul or consciousness and this depth of palpation combined with an anatomical understanding of the Cranio-Sacral system forms the basis of this course.
Sarah regularly teaches Usui Reiki 1 and 2, preferring to teach to small groups to keep the energy personal and the Reiki attunements are always done individually to enable each student the space for their own process.
To see the dates for upcoming courses click here
Testimonials:
I have known Sarah Anne Barker since 2006 and during that time have come to greatly appreciate the calm and gentle way that she embodies her passion for the Aura-Soma Colour Care System.  I have completed the Aura-Soma Level 3 Practitioner Training with Sarah Anne as my teacher and have benefited profoundly from her comprehensive knowledge and wisdom. I also had the privilege of attending Sarah Anne's course The Essene Tree of Life and the Communion with the Angels. During this three day course we were taken on an exciting journey of discovery into the relationships between the Aura-Soma Equilibrium range and the seven evening Heavenly Angels and the seven morning Earthly Angels.   Added to this were the Sevenfold peace meditations using Quintessences at noon when the sun is highest in the sky. I particularly benefited from grounding all these with my daily equilibrium bottle selections. I recommend Sarah's course to Aura-Soma Practitioners, Colour-Care Consultants and Teachers wanting to ground their understanding of the Essene Tree of Life and the Angelic realm.
I am particularly grateful to have Sarah Anne living and teaching in Tasmania. Her strong energetic connection with Dev Aura and ongoing earth healing work brings a much needed appreciation of the northern hemisphere perspective while developing a stronger feeling of inclusion in the Aura-Soma family. MS, Grove, Tasmania
Another amazing workshop with Sarah Anne Barker.  This is one of my personal favourites, and really allows an amazing space to just 'be' while opening up creativity and confidence and exploring consciousness through colour and sound. Sarah Anne is a profoundly knowledgeable, humorous and compassionate person to learn from and the Birth Angels hold amazing power for growth and healing.  Highly recommend immersing yourself in the energy, MT, Latrobe, Tasmania.
Consultations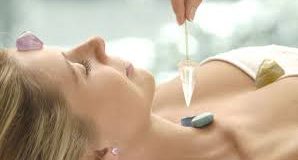 "I know from personal experience just how much Sarah can help to transform your world"
Sarah is a highly qualified therapist and teacher with over twenty five year experience in the wellness industry.  Helping people of all ages regain their health and wellbeing, both physically, emotionally and spiritually.
Her forte is the personal and spiritual growth of her clients and students.  She believes life is about learning and growing through whatever situations we find ourselves in.  We can endeavour to turn the negative into the positive, become empowered, strong and enabled, wiser, capable and confident.
Sarah also has  extensive experience working with children and babies.  Children respond to her gentle, caring nature and expertise in the field of Craniosacral Therapy, which may help with multiple child and baby issues.  From eating and sleeping with babies; learning difficulties with older children; autism; ADHD; multiple allergies; anxiety; and cerebral palsy.
With her previous medical, scientific background and extensive training in complementary therapies, this enables her to have a broad vision and knowledge of health and well-being.
Using her extensive experience she uses a combination of  Craniosacral Therapy, Kinesiology and Reflexology dependent upon the needs of the client.
Health Fund Provider for Reflexology.
Testimonials:
Sarah has been taking care of me and my family for nearly 2 years now and I cannot thank her enough.  Every time I see her she works her magic on me and I always leave feeling better. Having suffered from multiple food/chemical issues for years, she has enabled me to widen my diet due to kinesiology treatments. I seriously would be lost without her help. BC, Devonport, Tasmania